Sedona Monthly Women in Leadership/Women in Business May 2019 Issue - Don't miss this advertising opportunity.
Sedona Monthly profiles women leaders and women in business with the May 2019 Issue.
If your buyers are women, don't miss this chance to start engaging them. Let them know who you are, and what you have to offer them.
Bonus distribution includes area businesses, on top of all of the key saturation points below.
Featuring a Women in Business directory that will also be highlighted on sedonamonthly.com!
IF YOU TARGET NORTHERN ARIZONA RESIDENTS:
Sedona Monthly is mailed to every home in Sedona, Village of Oak Creek and select communities in Flagstaff.
We are sold on newsstands, in grocery stores and at national retailers throughout Arizona.
We distribute copies to select local businesses from Cottonwood to Sedona, Flagstaff, Metro Phoenix and Scottsdale.
Our 24/7 digital presence combined with our social media community continuously builds your brand and attracts customers.
IF YOU TARGET TOURISTS:
We have a solid online presence, sedonamonthly.com, connecting with visitors who are actively researching the best of Northern Arizona.
We are distributed in every major hotel in Sedona and the Village of Oak Creek.
We have national sales on the newsstands, in national retailers, bookstores and grocery stores, with a significant concentration in Arizona/Northern Arizona
We are distributed in virtually every upscale hotel in the state of Arizona. This is critical in connecting with the day trip/overnight visitor.
Complimentary copies are placed in premium airport lounges as well as at the gates of some of the highest-traffic shuttle flights in the nation.
We have a substantial subscriber base who return to Sedona often.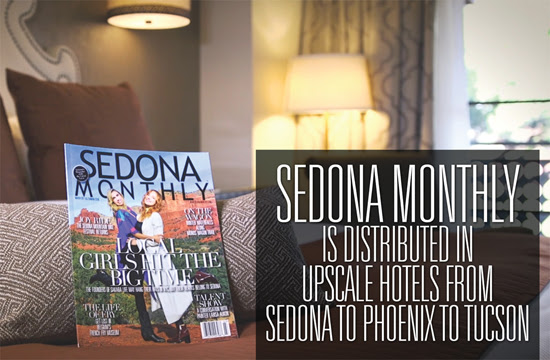 Don't forget the best distribution in print for your campaign!